Al Thuraya launches application and voice communication Service "Thuraya talk" :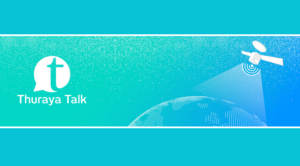 Thuraya Telecom announced on Thursday the launch of the Thuraya talk, a VoIP voice communication, which she said was appropriate for both personal and professional use, all users are given a dedicated number that can be used for outgoing and incoming calls.
The company explained that the launch of the application would take place in several stages so that the first stage would allow callers to make voice calls send text messages using "Thuraya Talk", which can be downloaded from the App Store or Google play starting today. Thuraya Talk can be used to connect to any Internet from anywhere in the world, either by connecting to Wi-Fi or using mobile data.
Thuraya Telecom (wikipedia) added that users can make phone calls to Thuraya satellite phones or to any other destination. It is ideal for users who are constantly connected to Thuraya numbers, providing them with savings of up to 60%.
"In Thuraya, we are always looking for ways to develop our portfolio of services to better meet the needs of end users," said Rashid Baba, the agency's chief executive officer at Thuraya. The application of Thuraya Talk is a good example of how to adapt to customer requirements and deliver high quality service in an easy, convenient and affordable manner to enable them to stay in touch with their families and friends. "
"The chandelier has this entire application and is reinforced by its upgraded infrastructure, which has been successful in servicing our space operations so far," said Bonet Lal, director of the Thuraya Talk producer. The Thuraya Talk application offers the same quality of voice as the Thuraya users and a secure audio channel that ensures privacy. "
The second phase of the service, to be launched early next year, will provide the ability to use voice and data services in tandem for the first time on the Thuraya Space Network. Thuraya Talk will be offered as an additional option suitable for any rich broadband station so that customers can use an analog phone to make and receive calls online for practical purposes. "Through future improvements, we also aim to make the Thuraya Talk " proper application of the crews of the ships, by adapting it to the perfect solution for them to stay in touch with family and friends. "